Exterior Ductwork Applications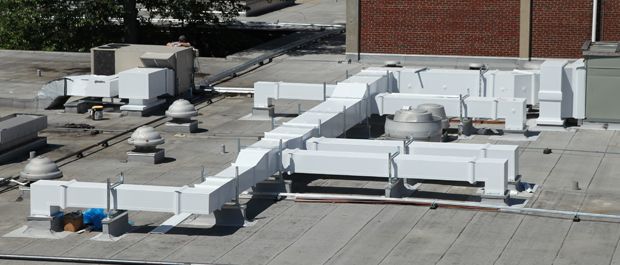 Often times for space needs in a project, running your ductwork in an exterior space becomes necessary. Exposing ductwork to the elements requires greater performance with durability, low air leakage and low thermal conductivity. The proof is on the roofs of buildings that employ outdoor ductwork. As duct systems leak, they inflate and deflate the outer protective layer that is intended to provide water integrity. Over time the performance of the moisture barrier degrades to a point where moisture is allowed in, reducing performance of the insulation and creating an environment perfect for microbial growth either on, or in, the duct.
With so many problems that face exposed ductwork, Delta Air Systems is proud to recommend the Outdoor Duct Solution, Thermaduct. Thermaduct is the duct, the insulation and cladding all in one high performance product. Fortifying Kingspan KoolDuct with a 1000 micron, UV stable vinyl cladding, Thermaduct offers an extremely durable and virtually seamless design. Specifically designed for outdoor use, Thermaduct keeps your conditioned air in and the outdoors out.
For more information on how you can solve your outdoor duct problems with Thermaduct visit thermaduct.com.