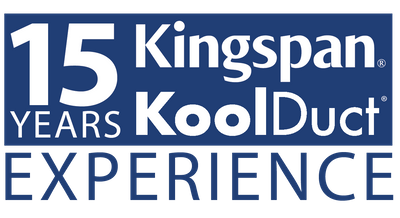 A History of Pre-Insulated Excellence
Delta Air Systems is the Kingspan KoolDuct Distribution Partner for the Midwestern United States. With over 15 years of experience with the Kingspan KoolDuct System, Delta Air Systems can provide the training and knowledge required to bring this innovative system to your shop! By using KoolDuct in your applications, you'll provide a low air leakage, lightweight and space-saving alternative to traditional wrapped metal. Don't pay someone to insulate your ductwork…start with a pre-insulated solution to save you valuable installation time!
Installation Savings with the Kingspan KoolDuct System
Lightweight
Kingspan KoolDuct can weigh up to 72% less than Traditional Metal. Your team in the field will be able to install more ductwork with fewer hands!
Efficient Installation
Kingspan KoolDuct can be fabricated in sections up to 13 feet and require fewer hangers than traditional metal ductwork. This alone can offer significant savings over the course of an application.
Pre-Insulated
With Kingspan KoolDuct, there's no need to insulate your ductwork after. Our rigid insulated panels come at a minimum R6 insulated value! Because of this, duct can be installed flush to the ceiling.
No Duct Sealing
KoolDuct's installation process provides some of the lowest air leakage rates in the industry. An low leakage design means you won't need to be sealing your ductwork after it is hung.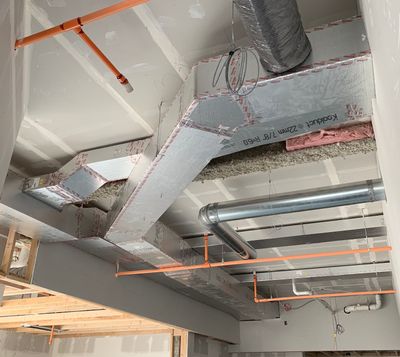 Join the Team
The Kingspan KoolDuct system is a pre-insulated, high efficiency air duct system suitable for a variety of air distribution applications.
It offers advantages over sheet metal ductwork, being lightweight, needing shorter installation time, having virtually no air leakage and offering high R-Values. This system is changing the HVAC industry.
Learn how bringing Kingspan KoolDuct into your shop can give your shop a competitive edge! Delta Air Systems has helped many companies in complimenting their metal fabrication with Kingspan KoolDuct.
Pricing KoolDuct became a lot easier with the public release of Benchmark Enterprise Software.
Benchmark is a CAD solution that allows for design, estimation and fabrication all in a single suite of software.
This includes a full phenolic library of parts and built in SMACNA phenolic duct construction standards that guide your work.
Trace or place phenolic duct over a pdf drawing and line item costs for an accurate bid every time.