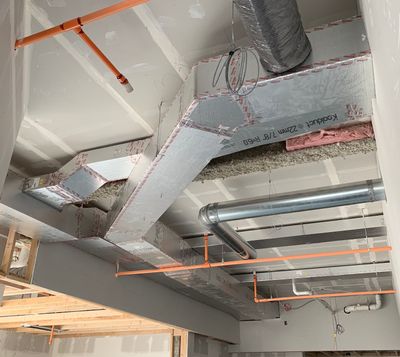 Kingspan Koolduct - Premium Performance Pre-Insulated Ductwork 
The Kingspan KoolDuct System is an advanced and innovative pre-insulated HVAC Duct system. This low carbon alternative to metal duct incorporates the duct and insulation into an all-in-one air distribution product that offers many advantages and eliminates virtually all headaches associated with galvanized sheet metal, fiberglass duct board and pre-insulated rigid polyiso. Kingspan KoolDuct can be used in many applications that require insulated ductwork.
How You Can Find Savings With the Kingspan KoolDuct System
KoolDuct is available in R-6, R-8.1 and R-12 panel thicknesses to be used as a full 2-in-1 duct system or as a metal duct liner for both interior and exterior applications. Building owners, fabrication shops and installers all can find savings and benefits from using a pre-insulated KoolDuct system.
Lightweight
Kingspan KoolDuct can weigh up to 72% less than Traditional Metal. Your team in the field will be able to install more ductwork with fewer hands!
Efficient Installation
Kingspan KoolDuct can be fabricated in sections up to 13 feet and require fewer hangers than traditional metal ductwork. This alone can offer significant savings over the course of an application.
Pre-Insulated
With Kingspan KoolDuct, there's no need to insulate your ductwork after. Our rigid insulated panels come at a minimum R6 insulated value! Because of this, duct can be installed flush to the ceiling.
No Duct Sealing
KoolDuct's installation process provides some of the lowest air leakage rates in the industry. An low leakage design means you won't need to be sealing your ductwork after it is hung.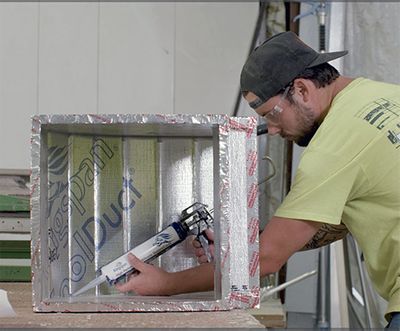 Kingspan KoolDuct Fabrication
Join our Growing Fabrication Team
We help contractors around the country find where KoolDuct can make sense for their shop. Whether you have a coil line and are looking for a new way to insulate your ductwork or if you are just looking to separate yourself from the competition, the Kingspan KoolDuct system will help you stand out from the rest by offering high efficiency systems suitable for a variety of air distribution applications.
It offers advantages being lightweight, needing shorter installation time, having virtually no air leakage and offering high R-Values. This system is changing the HVAC industry.
Learn how bringing Kingspan KoolDuct into your shop can give your shop a competitive edge! Delta Air Systems has helped many companies in complimenting their metal fabrication with Kingspan KoolDuct.
New Industrial Facility - Philadelphia, Pennsylvania
Sun Mechanical and KoolDuct fabrication partner, Sheet Metal Werks, employed a phenolic system project to find installation savings on the project. Kingspan KoolDuct eliminated the need for an insulator and allowed Sun to reduce the amount of labor in the field. KoolDuct's 2-in-1 duct system provided an R-6 pre-insulated value and lightweight nature reducing duct weight by up to 70%. With 13 foot sections and fewer hangers, Kingspan's phenolic system really kept the project moving!
Watch the video to learn more!
Hospital Facility - Toledo, Ohio
This healthcare facility chose Kingspan KoolDuct for its smooth aluminum interior, free of loose fibers, as well as the energy efficient low air leakage rates. 56,000 square feet of R6 KoolDuct will be installed in the three wings of this hospital.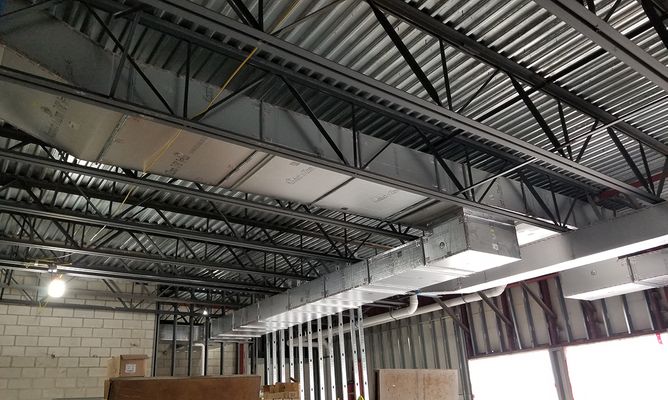 Kingspan KoolDuct Hospital Ductwork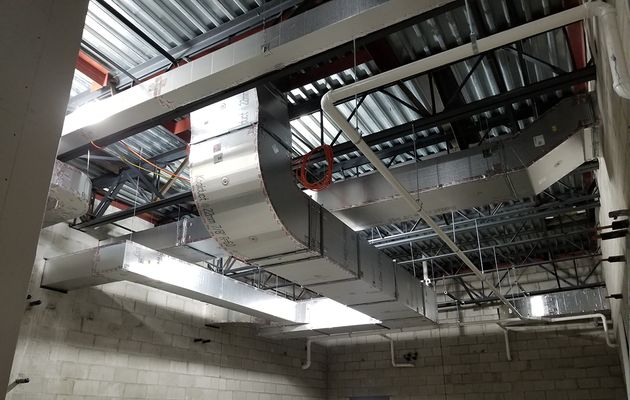 Hospital Phenolic Ductwork KoolDuct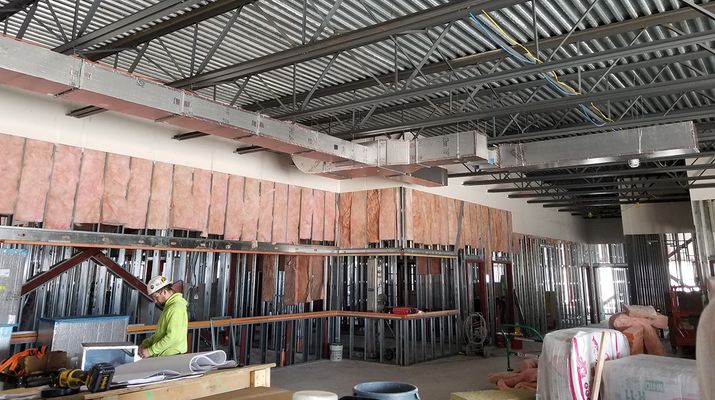 Interior KoolDuct Healthcare Ductwork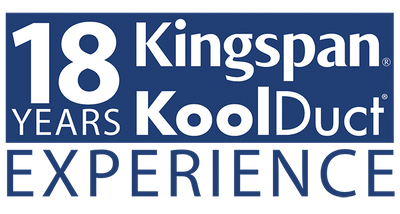 A High Efficiency Alternative to Metal Ductwork
Delta Air Systems is the Kingspan KoolDuct Distribution Partner for the Midwestern United States. With over 18 years of experience with the Kingspan KoolDuct System, Delta Air Systems can provide the training and knowledge required to bring this innovative system to your shop! By using KoolDuct in your applications, you'll provide a low air leakage, lightweight and space-saving alternative to traditional wrapped metal. Don't pay someone to insulate your ductwork…start with a pre-insulated solution to save you valuable installation time!