Insulated Sheet Metal Duct Liner with KoolDuct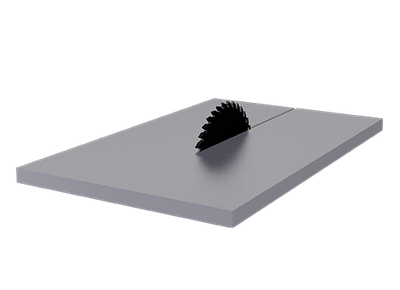 1) CUT
Cut to Size with Common Shop or Jobsite Tools, Such as a Table Saw.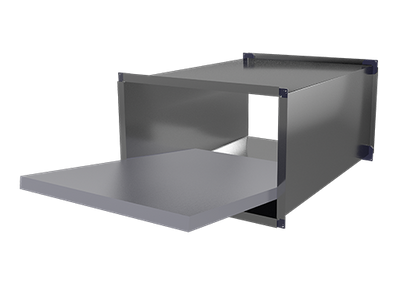 2) APPLY
Apply KoolDuct Liner to Metal Ductwork by Kingspan's Lining Guidelines. No adhesives Necessary!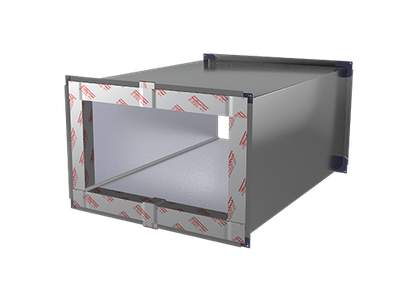 3) SECURE
Install Insulation Retention Clips by Kingspan Guidelines and Finish Corners with Kingspan Sealant and Apply UL 181 Approved Tape
Kingspan KoolDuct Non-Fibrous Duct Liner
Kingspan KoolDuct fiber-free, rigid phenolic insulation panels are now available for use as an interior duct liner for HVAC applications. This newly developed, patent-pending method of construction allows for the same panels used in Kingpsan's UL 181 listed system to now be applied to sheet metal ductwork for a fiber free lined duct that does not require adhesives. KoolDuct liner performs better than an insulated duct that uses traditional limp, non-structural insulation that requires glue and pins to keep it in place.
Using KoolDuct to line your metal ductwork will contribute to the strength and performance of your duct by increasing R-values and lowering air leakage. Even more important in today's IAQ goals...KoolDuct applied as a liner resists accumulation that can lead to mold growth in ductwork insulation.
Benefits of Lining Your Ductwork with KoolDuct
With a KoolDuct Liner You Can Expect:
High R-Values
Superior Fire and Smoke Performance
Lowers Air Leakage
No Adhesives or Pin Fasteners Required
Lightweight Foam Insulation That Is Easy to Install
Low VOC and High IAQ
NFPA 90a Compliant
ASTM E84 25/50 Compliant
Space Saving - Reach an R6 Insulated Value with a 7/8" KoolDuct Panel
Smooth Interior Surface - Up to 7x smoother than Traditional Fibrous Liners
Closed Cell Insulation with Clean Aluminum Surface
Low to High Pressure - 0.5" to 10" W.C.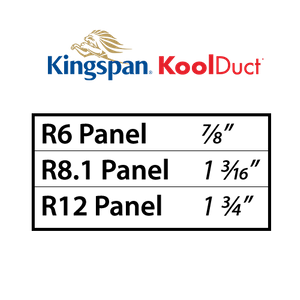 High R-value Per Inch of Insulation - A true alternative to fiberglass & Elastomeric insulations
Kingspan KoolDuct has a high resistance to thermal transfer and can provide high R-values with minimal space requirements inside of the duct. Reach an insulated value of R-12 value with 1 3/4" panel!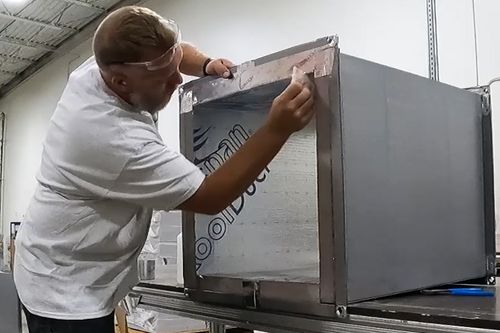 Kingspan KoolDuct Phenolic Duct Liner
Easily Applied in both the Shop or The Field
The rigidity of the KoolDuct phenolic panel allows for easy installation and a tight fit at corners where non-rigid products risk being overstretched and compressed. KoolDuct can be installed into your pre-fab ductwork before it leaves your shop or easily applied in the field with limited tools required. Limited fabrication investment is necessary and you can begin cutting most applications with simply a table saw. KoolDuct is available in 4' x 13' panels in a variety of thicknesses that supply different R-values between R-6 and R12.
Kingspan's installation guidelines are easy to follow for a smooth process that will greatly increase your ductwork's efficiency.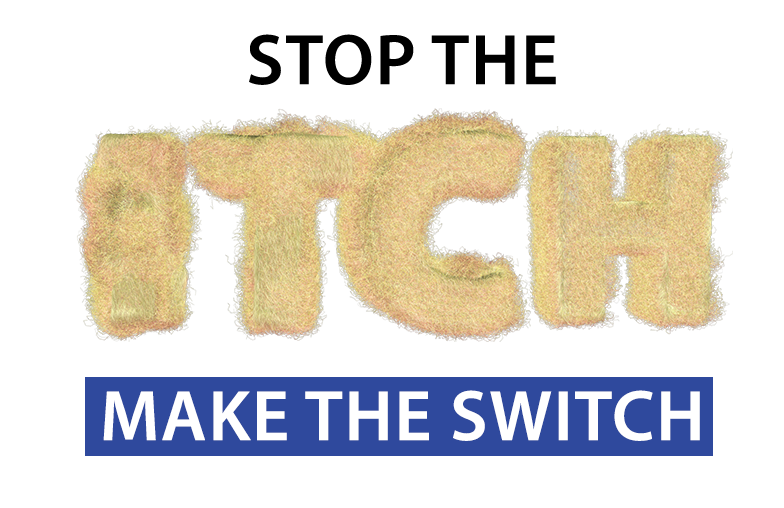 Ready to Start Using KoolDuct for your Duct Lining Solution?  
Request More Information Below To Get In Contact A Representative
Use KoolDuct to Insulate Your Ductwork
This new way to use Kingspan KoolDuct can provide both you and your customer. For more information, contact Delta Air Systems.