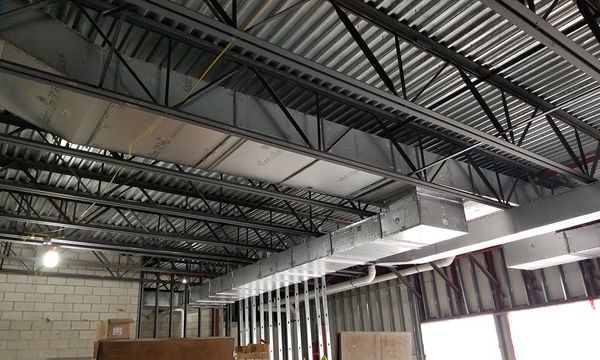 Kingspan KoolDuct Hospital Ductwork
Phenolic Kingspan KoolDuct Pre-Insulated Ductwork
The Kingspan KoolDuct System is an ideal choice for applications that require a clean, insulated duct system. From the high insulated values to the fiber free, smooth aluminum surface, KoolDuct provides superior air distribution compared to traditional lined or wrapped metal ductwork. With the indoor air quality benefits of Kingspan KoolDuct, you enjoy a high performance healthy building!
Ductwork is fabricated using premium performance rigid insulation panels in sections up to 13' long and can provide the optimum energy saving and environmental solution in comparison with other types of ductwork.
KoolDuct vs. Traditional Ductwork
Fiber Free Insulation
Kingspan KoolDuct is a closed cell foam with some of the highest R-values in the industry without the need for fibrous, open cell insulations. Because of this, customers find higher indoor air quality with KoolDuct's interior aluminum liner providing a smooth, clean surface for air to pass over. This system is UL 181 listed and is highly resistant to mold and bacteria growth and can provide either R6, R8.1 or R12 insulated values.
Minimal Space Requirements
KoolDuct is pre-insulated, which means there's no need to leave additional space for insulation. Because of this, ductwork can be stacked or installed flush to the ceiling, saving you valuable building space where every square inch matters!
Low Air Leakage
KoolDuct systems easily achieve a SMACNA Class 3 leakage rating and can solve leakage rates commonly associated with longer duct runs.
Weight Savings
KoolDuct can provide up to a 72% weight savings when compared to traditional double wall ductwork. This can result in a significant reduction in building loads over the course of an application and will simplify the installation process, keep your field installers feeling "fresher" throughout the day.
Fire and Smoke Performance
KoolDuct is unique as an insulated foam as this phenolic system meets the 25/50 flame and smoke spread requirements per ASTM E84 and NFPA 90a. Unlike commonly used foams, KoolDuct has exceptional flame and smoke performance and minimal thermal transfer.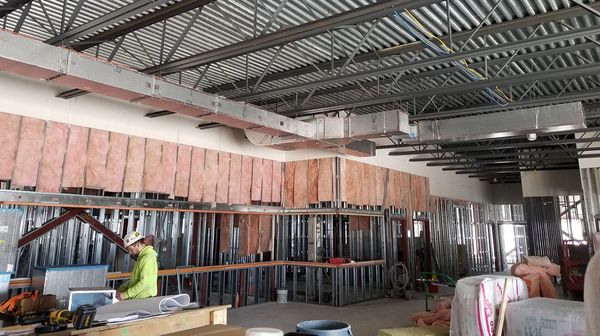 Interior KoolDuct Healthcare Ductwork
Duct with Higher IAQ
For applications that require insulated ductwork, look no further than Kingspan KoolDuct. These systems provide a clean, fiber free interior insulated ductwork that offers many great benefits beyond the aluminum interior. In an industry that commonly relies on fiberglass lined ductwork, KoolDuct can lower duct roughness substantially over a glass fiber liner.
Pairing this with less air leakage and up to a 72% savings on weight and KoolDuct overs a high performing alternative that's perfect for applications where indoor air quality is a concern!
For more information on how this high efficiency, high IAQ system is benefitting applications across the country, contact us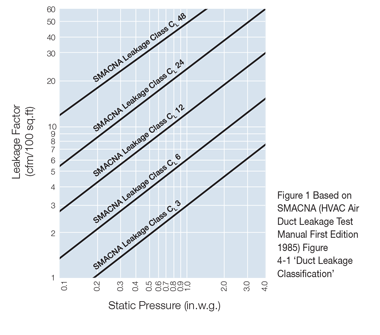 Extremely low air leakage - some of the most efficient Duct on the Market
Benefit from Reduced Heating and Cooling Loads
The air leakage rate of Kingspan KoolDuct® System ductwork can be a fraction of that of insulated sheet metal ductwork and can easily meet the requirements of SMACNA Class 3. The graph shows the maximum allowable air leakage for each leakage class over a range of pressures from 0.1 to 4 in.w.g. Less air leakage equates to significant energy savings in both fan horsepower and heating and cooling energy.
Saving energy and lowering carbon emissions is what Kingspan is all about. KoolDuct can play a role in your next application having higher, energy saving performance.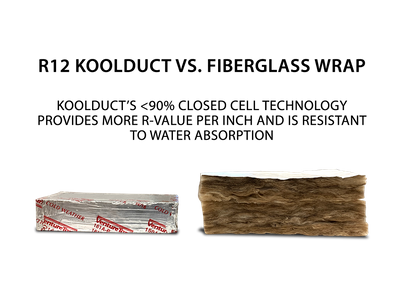 Moisture Resistant Closed Cell Technology
Industry Leading Performance
The insulation core of Kingspan KoolDuct® panels has 90% (or greater) closed cell structure, which means that they highly resistant to moisture penetration. In addition, the risk of moisture absorption into the core is effectively eliminated as the factory applied aluminum foil facings provide a high performance and impervious vapor barrier. The panels have a water vapor transmission of 0.34 grains/hr•ft²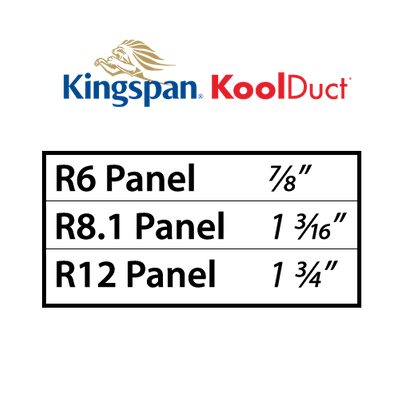 Unmatched Thermal Performance
Highest R Value to Size Ratio on the Market
The thermal conductivity (k-value) of Kingspan KoolDuct® panels is 0.146 Btu·in/hr·ft²·ºF at 50ºF (ASTM C 518), the lowest of any commonly used insulation material. A low thermal conductivity allows thinner insulation to achieve the required thermal performance. The installed material thermal resistances (R-values) for the range of panel thicknesses are shown in the R value table.
This R-value allows for space saving installations where ductwork can be installed near each other in ways traditional metal ductwork would not be able to be insulated. This includes installing flush to the ceiling where up to 8" of ceiling space can be gained by using Kingspan KoolDuct.
Lightweight Labor Advantage
Reduce Installation Costs
Kingspan KoolDuct weighs a fraction of insulated sheet metal; this means cheaper handling, lower transport costs, fewer supports and easier installation. Being pre-insulated, KoolDuct removes the need to wrap the ductwork. With less weight to work with, one worker can do much more and stay fresher throughout the work day.
Installation is familiar to anyone who uses traditional means of ductwork and can be installed by Kingspan and SMACNA standards. Need training for your next application? Contact us or talk to one of our local KoolDuct partners who can assist you.
Resistant to Fire and Smoke
NFPA 90A Approved 25/50 Flame and Smoke Spread
Kingspan KoolDuct® panels have a resistance to burning and spread of flame far superior to that of rigid polyurethane (PUR) or rigid polyisocyanurate (PIR) insulations. In addition, there is an almost complete absence of smoke when the panels are subjected to a flame source. The insulation core of the panels is thermoset and unlike thermoplastic materials it does not melt, drip or produce flaming droplets. The panels successfully pass the Burning Test (UL 181) and do not exceed flame spread / smoke developed indices 25/50 (ASTM E 84 / UL 723).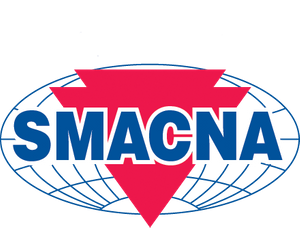 Code Compliance & Approvals Exceed SMACNA Duct Phenolic Construction Standards
Ductwork fabricated from Kingspan KoolDuct will meet or exceed what is required by the SMACNA Phenolic Duct Construction Standards. These guidelines have directed the Phenolic Duct Industry since their publishing in 2015.
Ductwork fabricated from the Kingspan KoolDuct® System satisfies the requirements of ANSI/ASHRAE/IESNA 90.1:2007, IECC 2003, 2006, 2009 & 2012, IMC 2009 and other major national specifications. KoolDuct complies with the requirements of NFPA Standards 90A & 90B and is UL Listed as a Class 1 Air Duct to Standard for Safety UL 181 when fabricated using: Kingspan KoolDuct® panels faced on both sides with factory applied silver aluminum foil; the aluminum grip flange and / or tiger jointing systems; and an aluminum foil vapor barrier tape that is UL Listed to Standard for Safety UL 181 A-P.
Improves Indoor Air Quality
Preferred in Health Care Environments
Distributed air flows over sealed aluminum surfaces, free of the risk of loose fibers entering the air handling system. In addition, Kingspan KoolDuct® panels have a non-fibrous insulation core, are non-deleterious, odorless and non-tainting. They will resist attack from mold and microbial growth and do not provide any food value to rodents or vermin.
Learn More About Kingspan KoolDuct - Features and Benefits